Opportunities With an Organizational Management Degree: Salaries and Job Descriptions - Peru State College Online
Written by: Peru State • Mar 25, 2021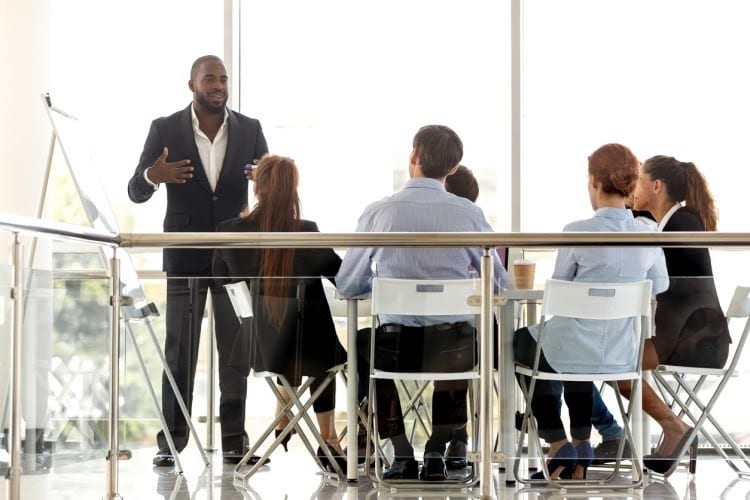 Pursuing an advanced degree in organizational management can help individuals develop the knowledge and skills to successfully plan, utilize resources and organize employees to reach a common organizational goal, whether that's increasing profits or achieving a specific organizational milestone. Leaders can also reap several personal benefits by earning an organizational management degree — salary increases and career advancement, among them.
The Benefits of Pursuing a Master's Degree in Organizational Management
Effective organizational management improves upon existing processes and procedures by implementing strategies that increase productivity and drive profits. It requires a deep understanding of an organization's structure and hierarchy to develop a more collaborative environment among high-level managers and direct reports. Those who are in organizational management positions implement training and monitor the status of current strategies and procedures. Individuals who are looking to move into a new position, champion change and lead their organization through a transition or even start their own business, earning a master's in organization management offers several benefits. 
Build a Skill Set
A specialized master's degree in organizational management can provide students with the opportunity to expand their knowledge of business and finance, including economic development, e-commerce and data management. In addition to allowing students to hone certain hard skills, a strong organizational management program can help them further develop the soft skills that are key to effective leadership.
Analysis. Organizational managers analyze an organization's existing structural hierarchy, policies and procedures to pinpoint areas of improvement. After instituting new strategies, they must monitor the efficacy of these changes. 
Communication. Effective communication is essential across an entire organization. In an organizational management position, effective communication helps to inspire, encourage and persuade peers and team members, rallying them around new policies and procedures. Organizational managers often have to report the results of their efforts to higher-level executives. 
Conflict Management. Conflict is often inevitable when managing organizations, particularly as they go through changes and transitions. Learning how to manage these situations, resolve disputes and negotiate agreements is key to maintaining a forward-moving, productive environment. 
Organization. The overall goal of an organizational management position is to drive the efforts to create positive change within an organization. Great organizational skills allow professionals to effectively manage multiple projects at a time and keep track of key performance indicators (KPIs) pertaining to these changes. 
Increase Salary Potential
With an advanced organizational management degree, an individual's salary potential may increase. According to the U.S. Bureau of Labor Statistics (BLS), the median annual wage for those in management positions was $105,660 in 2019. Furthermore, the BLS reports, across all careers, those with a master's degree earned a median salary 20% higher in 2019 than those with only a bachelor's degree. 
For an experienced businessperson, a current leader, an entrepreneur or a professional seeking a leadership opportunity, pursuing an advanced degree in organizational management can be beneficial.
Advance in a Career
Alongside that possible organizational management degree salary increase, completing a graduate program can provide individuals with the education needed to be a more dynamic and strategic employee and more competitive in the job market.
Industries across the spectrum are being disrupted by a host of factors, including technology and demographic changes. Organizations need effective leaders who have the hard and soft skills to not only navigate changes but also proactively drive them. The knowledge, skills and experience gained from a master's in organizational management program can help position professionals to move up in their current role, take on a new one, move to a new employer or start their own company. It's also a good step toward earning a doctorate.    
Organizational Management Careers at a Glance
Organizations actively seek out professionals who can help them grow and provide unique perspectives on overall business operations. An innovative leader can inspire employees to be proactive and work together to reach a common goal.
Professionals who have acquired an advanced degree in organizational management can support an organization in everyday business operations, as well as lead a team. Due to the dynamic nature of the degree, professionals with a master's in organizational management can pursue a variety of different careers, including chief operating officer, financial analyst, franchise owner and corporate recruiter, to name a few.
Chief Operating Officer (COO)
COOs oversee an organization's everyday business operations. They collaborate with CEOs and generally report only to them. In some organizations, COOs manage directors of different divisions.
COOs have refined organizational management skills due to their responsibilities in managing an organization's internal affairs. Organizational management can help them effectively execute business plans and navigate roadblocks that may impede long-term growth. Chief executives — COOs, CEOs and CFOs — earned a median annual salary of $184,460 in 2019, according to the BLS.
Financial Analyst
Financial analysts evaluate vast swaths of financial data to assist them in the development of financial models. These models provide organizations with the information to make informed business decisions. Some financial analysts work solely for investment firms, where they are tasked with analyzing markets, trends and stocks.
Financial analysts work closely with businesses that have franchises around the world, helping them to keep track of the financial health of various branches. These professionals have a keen understanding of an organization's business operations and position in the market. In 2019, the median annual salary for a financial analyst was $81,590, according to the BLS.
Franchise Owner
Franchise owners, also referred to as franchisees, purchase a business from a franchisor that allows them to sell or, in some cases, produce the franchisor's products. For example, an entrepreneur who wants to sell food can purchase a franchise from McDonald's, Taco Bell or Papa John's.
Franchisees can decide to collaborate closely with a franchisor or work independently. Successful franchisees have a developed sense of organizational management that allows them to oversee business operations and ensure overall financial growth and sustainability. The median annual income for a franchise owner in the food and beverage industry is about $70,000, according to Franchise Business Review.
Corporate Recruiter
Corporate recruiters have a solid foundation in organizational management. These professionals understand how everyday business operations can be negatively impacted by the wrong hire. They understand that a potential candidate should contribute to a business's synergy and not impede productivity.
These recruiters scour through hundreds of resumes looking for the ideal candidate for a position. Due to their essential role within an organization, corporate recruiters have a median annual salary of around $60,246, according to February 2021 PayScale data. Corporate recruiters with more experience can expect to command a higher salary than those just starting.  
Explore the Many Career Opportunities in Organizational Management
Leaders with an advanced degree in organizational management can help guide their organizations toward greater productivity and lasting sustainability. On an individual level, the benefits of an organizational management degree pertain to salary potential, skill acquisition, and career options and advancement. 
If you're interested in pursuing a career that allows you to utilize and implement your organizational management knowledge, consider Peru State College's online Master of Science in Organizational Management (MSOM). Unlike MBA programs, the MSOM focuses on entrepreneurship and economic development, providing you with a unique and dynamic business perspective that attracts employers looking for innovative leaders. Core courses include Organization Development and Change, Program Evaluation, Management of Innovation and Growth, Conflict Management and Mediation, Study Design and Data Collection, and Statistical Methods and Data Analysis.
Explore how Peru State College's online Master of Science in Organizational Management can help prepare you to excel as a leader in business. 
Sources:
Brandon Hall Group, "Reinventing and Democratizing Leadership Development"
CareerExplorer, "What Does a Franchise Owner Do?"
Franchise Business Review, "How Much Do Franchise Owners Make a Year?"
Houston Chronicle, "The Definition of Organizational Management"
Investopedia, Becoming a Financial Analyst
Investopedia, Chief Operating Officer (COO)
McKinsey & Company, "What Every Leader Needs to Know About Organizational Management"
PayScale, Average Corporate Recruiter Salary 
U.S. Bureau of Labor Statistics, Financial Analysts
U.S. Bureau of Labor Statistics, "Learn More, Earn More: Education Leads to Higher Wages, Lower Unemployment"
U.S. Bureau of Labor Statistics, Management Occupations
U.S. Bureau of Labor Statistics, Occupational Employment and Wages, May 2019
U.S. Bureau of Labor Statistics, Top Executives