What Can You Do With A Marketing Degree?
Written by: Peru State • Jun 17, 2020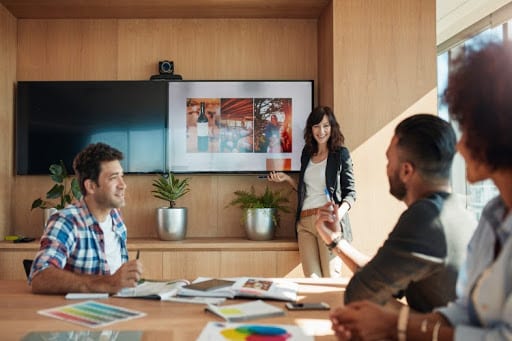 Marketing is a dynamic profession that attracts both communicators and analytical minds. Given the size of the industry — media firm GroupM estimates that global spending on marketing exceeds $1 trillion each year — marketing offers extensive career opportunities to anyone seeking a niche in the profession. 
Individuals who may be considering pursuing a Bachelor of Science in Business Administration degree with an option in marketing can benefit from exploring what you can do with a marketing degree and the rewards of a career in marketing.
Why Pursue a Degree in Marketing? ¶
Individuals who enjoy marketing can pursue their passion in many different areas. The potential for career growth and a bright job outlook also make marketing an attractive profession. 
With a Marketing Degree, You Can Work in a Variety of Areas ¶
Whether you're intrigued by digital marketing, developing customer experiences or building brands, having a degree in marketing establishes a good foundation for a rewarding career.
The different types of marketing offer a variety of career paths. For example, individuals who have a degree in marketing can work in:
Content marketing, which involves the creation of content, often through storytelling, that attracts customers
Outbound marketing, which uses digital, radio and television advertising to promote a brand
Search engine optimization (SEO), which focuses on increasing brand visibility through search engines
Green marketing, which centers on marketing products that are safe for the environment
Relationship marketing, which builds consumer brand loyalty through the use of strategies such as behavioral advertising
Marketing Is a Career With Growth Potential ¶
What you can do with a marketing degree can take many forms, but the traditional marketing career path illustrates how individuals who have a degree in marketing can move up the career ladder. 
Individuals who have marketing degrees often start their careers as marketing coordinators doing things such as customer research and tracking the progress of marketing campaigns.
As they advance in their careers, those same individuals can become marketing associates, who have responsibilities such as devising marketing strategies and forecasting sales.
After a few years of experience, they can move into positions as marketing managers, putting marketing teams together and working on strategic planning.
Eventually, individuals who have marketing degrees can work as chief marketing officers (CMOs), who have broad responsibilities in areas such as innovation and driving customer growth.
The Outlook for Jobs in Marketing Is Bright ¶
The U.S. Bureau of Labor Statistics (BLS) projects 7% growth in employment for marketing managers between 2019 and 2029, which exceeds its 4% projected growth for all occupations. 
Requirements for a Career in Marketing ¶
It's probably not surprising that careers in marketing usually require a bachelor's degree in marketing. However, individuals can also pursue marketing careers if they have a degree in a related field, such as advertising or communications.
Although it's not a requirement, obtaining experience through internships is a great way to enhance credentials for a career in marketing. In addition, having related experience in areas such as sales or public relations can help boost an individual's chances of success in marketing.
As individuals grow in their marketing careers, they can also obtain certifications to enhance their skills. For example, the American Marketing Association offers certifications in digital marketing, marketing management and content marketing.
Common Marketing Careers With a Bachelor's Degree ¶
One way of examining what you can do with a marketing degree is to learn about some of the more traditional marketing careers. These careers offer challenging and interesting work, as the examples below demonstrate.
Advertising Manager ¶
Advertising managers plan and carry out advertising campaigns to generate interest in an organization's services or products. This work also includes responsibilities such as managing advertising budgets or coordinating with external advertising agencies. According to the BLS, the median annual salary for advertising and promotions managers was $133,460 as of May 2020. 
Brand Manager ¶
Brand managers are responsible for how the public views a particular brand. Their job duties range from researching consumer preferences to developing ways to strengthen a brand. According to PayScale, the average annual salary for brand managers is around $71,300 as of June 2021.
Copywriter ¶
Creating compelling content for consumer advertising or product promotion is typically a copywriter's primary responsibility. This career also can involve working closely with clients to develop the best message to attract consumers. According to PayScale, the average annual salary for copywriters is around $53,200 as of June 2021.
Marketing Manager ¶
When working as marketing managers, individuals are responsible for forming marketing teams, identifying new markets and helping to develop new services or products. According to the BLS, the median annual salary for marketing managers was $142,170 as of May 2020.
As the digital world plays an increasingly larger role in everyday life, what you can do with a marketing degree continues to expand in new directions. For example, marketing careers such as those discussed below have emerged.
E-Commerce Product Manager ¶
As an e-commerce product manager, an individual creates an e-commerce strategy for marketing a product or service online. This could encompass duties in SEO, social networking or marketing through email. According to PayScale, the average annual salary for e-commerce product managers is around $87,500 as of June 2021.
Digital Marketing Manager ¶
Companies employ digital marketing managers to create the best marketing plans for digital spaces. Digital marketing managers' focus is often on bolstering loyalty to a brand. According to PayScale, the average annual salary for digital marketing managers is approximately $67,800 as of June 2021.
Search Engine Optimization Manager ¶
A SEO manager's key responsibility is to ensure that a company's information appears at the top of the results when individuals use search engines. Other responsibilities could involve contributing to web design and promoting a company in online directories. According to PayScale, the average annual salary for SEO managers is around $71,100 as of June 2021. 
Social Media Manager ¶
Working as a social media manager entails managing and organizing an organization's social media presence. For example, social media managers can respond to customer inquiries or issue statements via social media. They can also be involved in developing campaigns to strengthen recognition of a brand. According to PayScale, the average annual salary for social media managers is approximately $51,900 as of June 2021.
Valuable Skills to Obtain in Marketing ¶
In 2021, professional networking website LinkedIn analyzed its information on marketing jobs and identified the following list of marketing skills that employers required most often:
Crafting press releases
HTML
Web analytics
Sales promotion
Digital marketing
Adobe Acrobat
Retail sales
Google Analytics
Content management systems
Regardless of your specific marketing career path, the following skills are always beneficial when working in marketing:
Interpersonal and communication
Analytical 
Decision-making 
Organizational
Prepare for a Challenging and Rewarding Career in Marketing ¶
Marketing requires a fair amount of ingenuity blended with analytical, problem-solving and creative skills. Individuals who would like to learn about acquiring marketing expertise can explore Peru State College's online Bachelor of Science in Business Administration degree program with a concentration in Marketing. Follow your path to a fulfilling career in marketing today.
Sources:
American Marketing Association, "Ask the Recruiter: Fall 2020"
American Marketing Association, Definitions of Marketing
American Marketing Association, "Marketing Job Titles"
American Marketing Association, Professional Certifications
Apteo, "5 Rapidly Growing Ecommerce Jobs"
Deloitte, The 5 Roles of the CMO
GroupM, "Sizing Global Marketing: Expanding Opportunities and Outcomes"
LinkedIn, "Marketing's Evolution: A Look at the Jobs and Training Skills in Highest Demand"
PayScale, Average Brand Manager Salary
PayScale, Average Copywriter Salary
PayScale, Average Digital Marketing Manager Salary
PayScale, Average Product Manager, eCommerce Salary
PayScale, Average Search Engine Optimization (SEO) Manager Salary
PayScale, Average Social Media Manager Salary
U.S. Bureau of Labor Statistics, Advertising, Promotions, and Marketing Managers