Instructional Coordinator: Job Description, Salary and Outlook - Peru State College Online
Written by: Peru State • Apr 8, 2022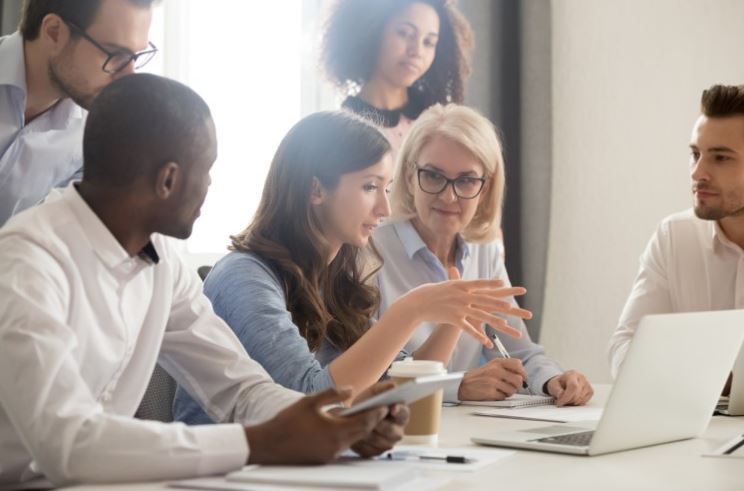 Instructional coordinators oversee educational programs and teaching standards in schools. They use their years of classroom teaching experience to mentor other educators and to assess and improve the effectiveness of their school's current curriculum. 
Instructional coordinators oversee professional development for teachers. In addition, they analyze student test scores, teacher and student surveys, and other data. Their duties also involve teaming up with school leaders and subject matter experts to incorporate the latest research on curriculum design. 
Instructional coordinators often serve as the bridge between schools and district administrations. They may participate in meetings with district administrators to get information about learning initiatives and interpretations of state learning standards passed down by school boards and other governing bodies.
They may also share research and make recommendations about ways to improve curriculum. 
Instructional coordinators typically specialize in specific content areas such as:
English language arts (ELA)
Social studies
World languages
Math
Science
Two core responsibilities of instructional coordinators follow. 
Developing Curriculum ¶
Instructional coordinators help schools strategically map out what is taught and in what order, as well as how to align a curriculum with state standards. This provides a framework for achieving specific student learning goals and outlines clear standards that hold teachers and students accountable. It also sets up a timeline for student skill acquisition and skill assessment. 
Curriculum development starts with a student needs assessment. Such assessments allow educators to identify gaps between what students can do and what they should be able to do (current student performance versus desired student performance). They also help educators identify why gaps exist. 
Needs assessments involve collecting and analyzing a mix of data including:
Student test scores
Student attendance records
Student, teacher and parent surveys
Student behavior referrals
This information can help instructional coordinators determine if educational materials need updating. It can also help instructional coordinators make strategic choices about which strategies, practices and interventions may help get students up to speed. 
As an example, a needs assessment may reveal that the majority of third graders in a school struggle to separate the main idea from supporting details in reading passages. Instructional coordinators may review how the grade's ELA curriculum supports the skill. 
Do related lessons have logical sequencing that shows students how to identify the main idea, or do lessons simply ask students to practice the skill without sufficient instruction? What strategies do students use to develop the skill, and are those strategies effective? Such questions can help instructional coordinators make key adjustments to the curriculum. 
Instructional coordinators collaborate with other school leaders and educators to develop and improve curriculum. This may involve leading sessions with English language learner (ELL) educators to identify language skill strategies that can be incorporated across the curriculum, such as QSSSA (question, stem, signal, share, assess), a technique that uses sentence starters to help ELLs respond to questions. 
Collaboration may also involve discussions with teachers to solicit feedback and insight about gaps in curriculum that are holding students back or outdated materials that pose problems. 
Supporting Educators ¶
Successful implementation of a new or modified curriculum requires providing teachers with sufficient support and training. Teachers need to familiarize themselves with new materials, techniques and technologies. They also need instruction on the steps they need to use to successfully implement curriculum changes.   
Instructional coordinators' job descriptions include developing implementation procedures. This includes recommending instructional strategies and explaining how to use new resources such as teaching aids and equipment. Instructional coordinators may organize training sessions that teach school staff how to use interactive Smart Boards, grading software and other types of software. Additionally, instructional coordinators may observe teachers in their classrooms and offer feedback on ways to improve their instructional practices. 
To support teachers throughout the year, instructional coordinators may conduct workshops on various topics including:
Methods to perform diagnostic, formative and other assessments
Characteristics of effective rubrics
Applications of student data to drive instruction
Ways to incorporate art, music and visual aids into lessons to improve engagement     
Steps to Become an Instructional Coordinator ¶
In addition to getting familiar with the instructional coordinator job description, individuals should learn about the steps required to pursue the career. 
Step One: Earn a Bachelor's Degree ¶
Aspiring instructional coordinators need to first earn a bachelor's degree in education or in a related field, such as a content area like English, math or science. The education degree offers coursework that builds foundational knowledge of educational theories and practices key to an instructional coordinator's work. Students learn about curriculum development, assessments, current issues in education, and social and environmental factors that can affect learning. 
Bachelor's degree programs in education also typically offer classes that focus on specific age groups, such as elementary students, or subject areas, such as mathematics.  
Step Two: Earn a Master's Degree ¶
Most instructional coordinator positions require candidates to hold an advanced degree, such as a Master of Science in Education with a focus on curriculum and instruction. Completing a master's program gives instructional coordinators a chance to cultivate their knowledge of curriculum design and assessment development. It also offers coursework that trains educators to collect and analyze student data. 
With a master's degree, instructional coordinators can earn higher salaries, access more job opportunities and advance more easily into leadership roles. Additionally, in many public schools, a master's degree in education is required to become a licensed teacher or administrator, which is a prerequisite for most instructional coordinator positions.  
Step Three: Get Licensed ¶
Instructional coordinators frequently need a teaching or administrative license. Requirements for these licenses vary by state, however, they often include:
Hold at least a bachelor's degree and often a master's degree
Complete a student-teaching program
Pass a teaching certification or education administrator exam
Pass a background check
Step Four: Gain Work Experience ¶
Understanding best practices in teaching requires on-the-job experience and years of practice in the classroom. Instructional coordinators need to test out different instructional models and methods to learn how they work best and when to apply them. They also need experience confronting the challenges of teaching and implementing new curriculum to effectively train and guide other educators.   
Instructional Coordinator Salary and Job Outlook ¶
Instructional coordinators had a median annual salary of $66,970 in May 2020, according to the U.S. Bureau of Labor Statistics (BLS). Top earners made more than $105,650 a year. A number of factors can influence salary differences, including years of experience, education level and geographic location. 
The BLS forecasts a 10% increase in the number of instructional coordinator positions between 2020 and 2030. This outpaces the 8% average increase projected for all occupations. 
Empower Students Through Strategic Curriculum and Instruction ¶
Well-planned curriculum and effective instruction empower students to reach their greatest potential. Aspiring instructional coordinators can make a meaningful impact on students by building key skills and knowledge about curriculum development, assessment design and instructional strategies. 
Peru State College offers an advanced degree in education with the option of specializing in English as a Second Language. Students can also earn an advanced certificate in any of the following areas:
Classroom Behavior and Management
Instructional Mastery
Inclusionary Practices and Policies
Instructional Technology
These certificates can count toward degree requirements or serve as stand-alone credentials. 
Explore how Peru State College's online Master of Science in Education program can prepare you to fulfill the responsibilities of any instructional coordinator job description and build a thriving career.  
Recommended Readings
Educational Consultant Job Description and Salary
Exploring a Career Path in Education Through Online Learning
Teaching in Nebraska and the Midwest: License Requirements
Sources:
Chalk, "7 Reasons Why Your Curriculum Matters More Than You Think"
Chalk, "10 Surprising Curriculum Statistics That'll Help Your School"
Edutopia, "6 Essential Strategies for Teaching English Language Learners"
O-Net OnLine, Instructional Coordinators
Paradise Valley Unified School District, "The Role of Curriculum Specialists in Education"
U.S. Bureau of Labor Statistics, Instructional Coordinators
U.S. Bureau of Labor Statistics, Occupational Employment and Wages, May 2020, 25-9031 Instructional Coordinators
U.S. Department of Education, School Improvement: Needs Assessment
World Economic Forum, "5 Ways to Bring School Curricula Up to Speed"