How to Become a Hospital Administrator - Peru State College Online
Written by: Peru State • Dec 15, 2022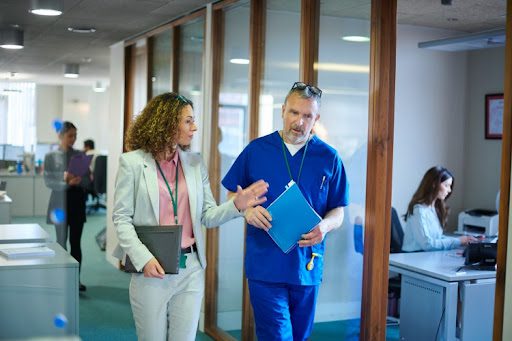 What Does a Hospital Administrator Do? ¶
Hospital administrators play an integral role in their organizations, responsible for a variety of operational tasks. In small hospitals they may be generalists, and in large ones their role may be more specialized. Regardless, all hospital administrators share a few key responsibilities.
Managing the budget and the hospital's assets is usually a large part of a hospital administrator's responsibilities. Hospitals and other care facilities have a lot to tend to when it comes to their equipment, spaces, payroll and invoicing. These responsibilities can entail everything from keeping supplies in stock to overseeing the installation of new medical devices. With hospital administrators to focus on these tasks, the hospital can run smoothly and efficiently and patients can be supported properly. 
Another area of oversight for hospital administrators is personnel management. This takes shape through ensuring adherence to regulations, hiring, training and goal setting for the team at large. Administrative experts can do this vital work more effectively than other staff members. And using qualified administrators to oversee these tasks frees up clinicians to focus on patient care.
Steps to Become a Hospital Administrator ¶
While each individual's path to becoming a hospital administrator is different, they share a few common steps. 
Earn a Degree ¶
Education is crucial, and aspiring administrators should earn a degree in a relevant field of study, such as business administration with a healthcare focus. Ideally, a program's curriculum should cover topics such as healthcare law, ethics, revenue cycles and human resources. 
Develop Key Skills ¶
Aspiring hospital administrators must be knowledgeable about business operations as well as the ways to use technology to increase efficiency in a healthcare organization. In the era of big data, administrators must be skilled at using data to drive decision-making. Another skill that hospital administrators must exhibit is the ability to speak the language of healthcare. While most of their time will be spent doing operational tasks, they will still be working closely with their clinical colleagues. 
Key soft skills hospital administrators need include the ability to communicate with everyone from executives to clinicians; strong leadership skills to manage and inspire teams; and organizational and planning skills to enable administrators to monitor staffing, budgeting and supplies over the long term.
Gain Work Experience ¶
After earning a relevant degree, hands-on experience is crucial to build on the abstract knowledge offered through coursework. Entry-level positions that can lead to a career as a hospital administrator include jobs in medical claims and billing, records administration or quality assurance and compliance. Hospital administrators typically aren't required to have clinical backgrounds, but that experience can be valuable. 
Earn Certifications ¶
After working in the field, certification in an area of professional interest such as risk management, compliance or information systems can demonstrate expertise in that area. Here are some certifications to consider:
Certified in Healthcare Compliance (CHC) certification from the Health Care Compliance Association (HCCA)
Certified Professional in Healthcare Information Management Systems (CPHIMS) certification from the Health Information and Management Systems Society (HIMSS)
Certified Medical Manager (CMM) from the Professional Association of Health Care Office Management (PAHCOM)
Hospital Administrator Salary and Job Growth ¶
Hospital administrators earned a median annual salary of around $88,400 as of October 2022, according to data from the compensation website Payscale. Salaries can vary depending on education, experience, region and the specific organization.
In addition, the U.S. Bureau of Labor Statistics (BLS) projects a higher than average job growth of 28% for medical and health services managers, which includes hospital administrators, between 2021 and 2031. 
Find Your Career in Healthcare ¶
Hospital administrators fill a crucial role in their organization's operations. Their clinical colleagues rely on them to create an efficient environment for high-quality care. 
Those interested in stepping up to be a part of creating positive patient experiences should learn how to become a hospital administrator through Peru State College's online Bachelor of Science in Business Administration in Healthcare Business program. 
The focused healthcare courses help students develop the skills to navigate the unique challenges of healthcare organizations, including hospital, outpatient and ancillary services. Take the first step today to explore how Peru State College can give you the tools to build a successful career in hospital administration.
Recommended Reading
Online Degrees: Tips to Prepare for Your New Way of Learning
20 Reasons Why Peru Is for You
Sources
American College of Healthcare Executives, "Using Data Analytics to Improve Hospital Quality Performance"
Health Care Compliance Association, Certified in Healthcare Compliance (CHC)
Healthcare Information and Management Systems Society, CPHIMS Certification
Indeed, "How to Become a Hospital Administrator: A Complete Guide"
Payscale, Average Hospital Administrator Salary
Professional Association of Health Care Office Management, Certified Medical Manager (CMM)
Society for Human Resource Management, Hospital Administrator
U.S. Bureau of Labor Statistics, Medical and Health Services Managers