Grants vs. Loans: Resources for Students in Nebraska and the Midwest - Peru State College Online
Written by: Peru State • Apr 15, 2022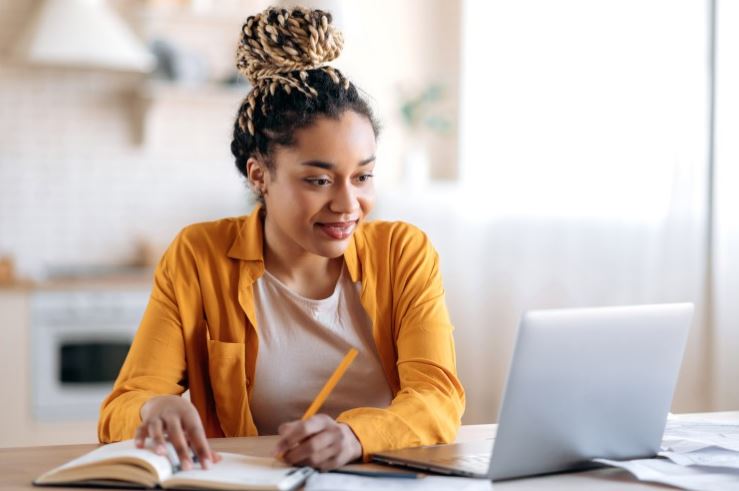 Comparing Grants vs. Loans: Similarities and Differences ¶
College grants are the same as scholarships, both of which are referred to as gift aid. Grants are awarded by the government, colleges and private organizations based on need, while scholarships are primarily based on merit. In both cases, the awards are gifts that do not need to be repaid.
By contrast, college loans are funds borrowed from the federal government, a state government or a private lender to cover the student's tuition, books, supplies and living expenses. College loans are available for students as the borrower and for parents as the borrower. The loans are subsidized or unsubsidized:
Unsubsidized college loans begin to accrue interest the moment the money is dispersed. The loans are available to undergraduate, graduate and professional students and have higher interest costs than subsidized loans.
Both college grants and college loans make the award available once the student has begun attending classes. Grants and loans are awarded based primarily on need as determined by a number of eligibility calculations.
Eligibility Requirements for Grants and Loans to College Students ¶
The first step in applying for a college grant or loan is to complete a Free Application for Federal Student Aid (FAFSA), which is used by many states, colleges and universities to make their decisions about financial aid. FAFSA enrollment begins in October of the year before the applicant intends to enroll. The enrollment period ends on June 30 of the enrollment school year, or 19 months later.
To be eligible for federal student aid, the applicant must be a U.S. citizen or eligible noncitizen who can demonstrate financial need, although some programs waive the financial-need requirement. These are among the other eligibility requirements for federal student grants and loans:
Be enrolled or accepted for enrollment as a regular student in an eligible degree or certificate program
Maintain satisfactory progress toward completion of the program
Have a high school diploma or equivalent, such as a General Educational Development (GED) certificate
Be enrolled at least half time (only for the Federal Direct Loan Program)
Once students receive information from the financial aid offices of the schools they have applied to, they can compare the determinations, which are calculated based on Expected Family Contribution (EFC) and the school's cost of attendance (COA). FAFSA awards come in three forms:
Grants are awarded to students who have "exceptional financial need," primarily in the form of federal Pell Grants.
Work-study programs are awarded to undergraduate, graduate and professional students at many colleges and universities. The part-time positions are available to students enrolled full time and part time and often involve work in civic areas and areas related to the student's field of study.
Federal loans generally have lower interest rates and more favorable repayment terms than student loans offered by private lenders. Among the federal loans available are Stafford Loans awarded by the William D. Ford Federal Direct Loan Program, and Direct Plus loans that are available to graduate and professional students.
Tips for Applying for College Grants and Loans ¶
The first step in completing a FAFSA application is to create a Federal Student Aid ID (FSA) by choosing a username and password that will be used to access information about the application and awards. For dependent students, a parent or guardian must create their own FSA. The U.S. Department of Education provides instructions for completing the FAFSA form.
1. Collect the Required Documents ¶
For U.S. citizens, required documents include their Social Security card, driver's license (if they have one), bank statements and recent W-2 tax forms and federal income tax returns. Dependent students will need their parents' recent W-2 forms and income tax returns, bank statements and current business and investment records. 
2. Answer FAFSA Questions About the Student's Family ¶
Dependent students indicate their parents' marital status, whether they live with a legal guardian or foster parents, whether the parents are same-sex partners and whether a parent is deceased. Independent students explain whether their parents are incarcerated or institutionalized, neglectful, missing or abusive. They also indicate whether they are legally emancipated.
3. Link Directly to IRS Data ¶
The IRS Data Retrieval Tool can speed up the application process and avoid data entry mistakes in the application by transferring tax return data to FAFSA directly. Using the tool avoids sharing tax information with the schools the student is applying to because the data doesn't appear in the FAFSA application.
4. Enter the FAFSA School Code ¶
As many as 10 school codes can be entered in the online FAFSA application and up to four schools in the paper application. When a student hasn't decided which schools to apply to, they are instructed to enter the codes for the schools being considered. The FAFSA application can be updated once the student decides which schools to submit applications to. All the schools listed will receive a copy of the student's FAFSA application.
Resources for Finding Grants and Loans ¶
Many states and private groups offer residents college grants and loans. To find the awards available to students in a particular state agency or from a private source, students can visit one of several different sites:
The Department of Education's database of state departments of education and other education-related agencies links to agencies in all 50 states, U.S. territories and commonwealths, and the freely associated states of Micronesia, Palau and the Marshall Islands. 
Students can also apply for grants and loans from private groups and organizations by using the U.S. Department of Labor's Scholarship Finder. The service lets students and parents search through more than 8,000 financial awards, including scholarships, fellowships and grants.
Forbes provides a guide to private student loans that can cover the gaps in school financing not covered by subsidized or unsubsidized federal student loans. Note that these loans are generally at higher interest rates than their federal counterparts, and they lack the payment options of federal student loans.
Tips for Supplementing Financial Aid ¶
Most students will find that the financial aid they receive isn't enough to cover all of their school expenses. The Department of Education offers seven tips for students who are looking for ways to supplement their financial aid award:
1. Local Scholarships ¶
Students can apply for local scholarships that are awarded by community and religious groups, fraternal organizations such as the Elks and Kiwanis, and businesses, including their parents' employers. Students should confirm the legitimacy of any scholarship offers they receive with their school's financial aid office.
2. Part-Time Employment ¶
In addition to federal work-study programs, part-time jobs are available for students on campus that are financially helpful and that may complement the student's coursework.
3. Student Tuition Payment Plans ¶
Many colleges and universities offer students tuition payment plans that allow their tuition and other fees to be paid in installments throughout the semester. This helps students avoid costly late fees.
4. Reevaluation of Qualification for Assistance ¶
If a student's financial situation, or that of the student's family, has changed since the FAFSA application was submitted, they can request a reevaluation of their qualification for financial assistance through a process called professional judgment. Not all schools consider such special circumstances, however.
5. Federal Direct Plus Loan Program ¶
Students and their families can request additional federal student loans via the Direct Plus loan program. If the student or the student's family doesn't qualify for a loan, they may be able to document their extenuating circumstances or seek a co-signer or endorser for the loan.
6. Requesting a Loan Advance or Other Emergency Aid ¶
When students have expenses such as housing or other living expenses that must be paid before their award is disbursed, they can apply to their school for an advance, a school-based loan or emergency aid. Note that interest rates and other terms may apply to any such short-term arrangement.
7. Private Education Loans ¶
Students and their families can apply for an education loan from a private institution. The application is separate from FAFSA and may require a co-signer. Private loans tend to entail higher interest rates and less favorable repayment terms than federal education loans, and they may include requirements to show satisfactory academic progress.
Grants and Loans Available to Students in Nebraska and the Midwest ¶
Between the fall of 2019 and the fall of 2020, full-time enrollment in four-year colleges in Nebraska rose by only 1%, and enrollment in two-year colleges declined by about 6%, according to the "Trends in College Pricing and Student Aid 2021" report by the College Board. From the 2016-2017 school year to the 2021-2022 school year, the average cost of tuition and fees at a four-year college in Nebraska rose by about 3% to just under $10,000 for in-state students.
The Nebraska Department of Education has created the Nebraska Career Development Model that is intended to help schools in the state encourage students to pursue postsecondary education and career opportunities starting in the early grades and extending through high school. Part of that effort involves getting students and their families thinking about how to fund college via grants, loans and other sources. 
To that end, the state is partnering with the nonprofit organization EducationQuest to offer free college planning services and information about need-based scholarships and education grants. The group's annual Apply2College Nebraska college application campaign organizes events in high schools to help students know when to apply for their chosen colleges and universities, how to complete application forms and how to find resources about colleges in Nebraska.
Nebraska's Coordinating Commission for Postsecondary Education sponsors the Nebraska Opportunity Grant (NOG) program, which was formerly called the Nebraska State Grant. To qualify for a grant under the program, students must be Nebraska residents who are attending a postsecondary institution in the state and have a minimum EFC as determined by their FAFSA application. Some schools require a separate application for the NOG program in addition to the student's FAFSA application.
Other states in the Midwest have programs that provide grants and loans to college students in their state.
Grants and Loans for Teacher Education ¶
Grants for students enrolled in education programs sometimes entail a service obligation, which distinguishes them from grants that are considered gift aid. For example, the Teacher Education Assistance for College and Higher Education (TEACH) Grants that are provided by the U.S. Department of Education offer up to $4,000 per year for students who are pursuing a teaching career. The grant comes with an obligation to meet three requirements after graduating:
Work for four years as a full-time, highly qualified teacher at an elementary or secondary school that serves low-income students
Teach in a high-need field, such as mathematics, science, reading specialist, bilingual education or special education
Complete the four years of teaching within eight years of graduating or no longer being enrolled in the education program for which the grant was given
Failure to meet these obligations converts the grants to loans that must be repaid in full with interest.
Education leaders in Nebraska are promoting efforts by state legislators to enact a student loan forgiveness program that would wipe out as much as $30,000 in debt for people who become teachers in Nebraska schools. High retirement rates among experienced teachers have created an acute shortage of teachers in Nebraska. The program would be modeled after an existing one in the state that helps keep doctors working in Nebraska after they graduate.
Grants and Loans for Criminal Justice Students ¶
These are among the grants and loans available to students interested in criminal justice careers, such as in police work, corrections and investigations.
The Harold Johnson Law Enforcement Scholarship grants scholarships of up to $5,000 to as many as seven students who intend to pursue a career in law enforcement and criminal justice.
Peru State College offers the Corrections Leadership Scholarship Program for students who complete a degree in criminal justice while employed at the Tecumseh State Correctional Institution. Students receive $12,500 per academic year for tuition, fees, books, room and board.
The National Association of Blacks in Criminal Justice (NABCJ) sponsors the Thurgood Marshall College Fund that awards $2,000 to a student pursuing a bachelor's degree in criminal justice or a closely related field.
Grants and Loans for Psychology Students ¶
Among the funding sources available for psychology students are several that are sponsored by the American Psychological Foundation:
The Fontana Transport Inc. Scholars Program awards $5,000 each year to a college student from an underrepresented group who is studying psychology or one of several other STEM and language subjects.
The Quell Foundation's Bridge the Gap Scholarship is available to juniors and seniors in college as well as graduate students who are pursuing a degree in psychology, social work or other field related to mental health services.
The American Psychology Association (APA) offers the Sharon Stephens Brehm Undergraduate Psychology Scholarships that award $5,000 to seven undergraduate students who demonstrate financial need. Applicants must be "outstanding" students who are declared psychology majors.
Student Loan Forgiveness Programs in Nebraska and the Midwest ¶
The Nebraska Department of Education has three loan-forgiveness programs that are available to certain Nebraska residents:
Loan forgiveness and restructuring programs sponsored by the U.S. Department of Education include the following:
Income-driven repayment plans can extend the standard loan repayment period from 10 years to as long as 25 years if the current monthly repayment amount exceeds the person's ability to pay. Four types of plans are offered that cap repayment at 10% to 15% of the person's take-home pay.
The Teacher Loan Forgiveness Program provides up to $17,500 toward repayment of direct subsidized and unsubsidized student loans for teachers who work full time for five years in low-income schools or educational service agencies.
The Public Service Loan Forgiveness Program forgives the balance on direct student loans after the person makes 120 qualifying monthly payments as part of a qualified repayment plan while working full time for a qualified public service employer. These employers include federal, state, local and tribal not-for-profit organizations, excluding military service.
Benefits of Knowing Your Financial Aid Options ¶
College students need to keep their focus on their studies so they get the most benefit possible from their education. Having a solid financial plan in place that includes a mix of grants, loans and other financial resources takes much of the uncertainty out of your academic career. It also helps to set the stage for your career success by reducing the burden of student debt.