How to Become a Child Care Director - Peru State College Online
Written by: Peru State • Sep 20, 2022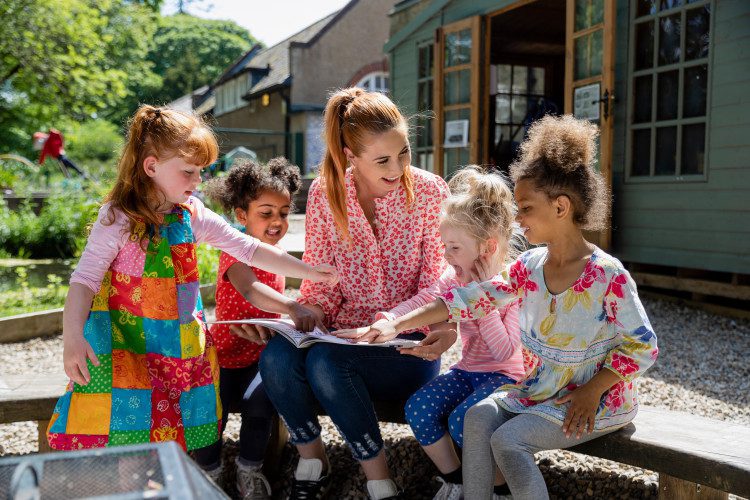 The National Education Association (NEA) cites the value of early childhood education in helping children progress through elementary school, graduate from high school and earn more money when they enter the workforce.
Today, child care facilities across the country are undergoing a variety of changes, many of which have resulted from the COVID-19 pandemic. 
Navigating shifts such as a heightened focus on health and safety, the increased use of technology and a greater need for flexibility — while also providing outstanding care — requires strong leadership. As the professionals who oversee child care facilities' operations, child care directors provide this leadership. 
An online Master of Science in Education degree as well as experience and certification can prepare individuals to lead the way through the changes facing early childhood education while also ensuring top-notch care for the children in their centers.
What Is a Child Care Director? ¶
Child care centers are nonresidential facilities that typically provide care for infants and preschool children, grouped by age. They also may offer arrangements such as before- and after-school activities for older children and camps during school vacation periods. 
Staff members care for children under the supervision of a director. The child care director works to ensure that the center runs smoothly, meets children's developmental needs and complies with all relevant regulations.
Child Care Director Responsibilities ¶
Child care directors carry out a broad range of tasks, interacting with staff, children, families and the community. Their responsibilities include:
Ensuring the facility is safe
Developing curriculums that encourages age-appropriate skills and behaviors
Keeping the center in compliance with state and federal regulations and licensing and accreditation standards as appropriate
Creating a budget and managing allocations for supplies
Overseeing the hiring and training of staff
Managing escalated conflicts between staff members or between staff and guardians
Facilitating staff development
Communicating policies to employees and families
Updating guardians on children's progress
Marketing the facility and its services
Child Care Director Workplace ¶
Any of a variety of individuals and organizations can operate child care centers, including:
Corporate chains
Individuals
Nonprofit organizations
Government agencies
Churches
Schools
Child care directors typically work on-site at these facilities. Although their work tends to require that they spend most of their time in their office, they also visit classrooms to interact with children and staff and to meet with children's guardians.
The operational hours for child care centers often extend beyond traditional work hours, especially for before- and after-school programs. As a result, child care directors often work early in the morning or into the evening. They may stagger their work hours with an assistant to ensure that someone is on-site to direct operations throughout the day.
Steps for Becoming a Child Care Director ¶
The path to becoming a child care director requires early education-focused training and experience, with many positions requiring certification as well. Individuals considering this career can expect to take the following steps.
Specialize in Education ¶
Child care directors generally have at least a bachelor's degree in education. Beyond this, an advanced education degree also is beneficial. 
Earning a master's degree in education can provide aspiring directors with expertise in areas that are key to success in the job, such as child development, curriculum management, early childhood education, new educational technologies, and teacher and student evaluations. A graduate degree also can provide a competitive advantage in a job search, and it offers the potential for a higher salary.
Many child care centers hold a state license. Although licensing requirements vary by state, individuals who work at licensed centers generally must meet certain educational standards in addition to passing a background check.
Develop Skills ¶
Those interested in a career as a child care director should develop the skills needed to lead staff, coordinate care and education, and manage a facility. The range of relevant skills reflects the varied nature of the role, and includes:
Leadership — They hire and manage employees, set the tone for care and education, and ensure that the facility and its staff adhere to safety protocols and regulations.
Organization — They must maintain records about children and staff at the center, and their work sometimes requires addressing multiple concerns with children, staff or parents simultaneously.   
Communications — They communicate with employees about plans and activities, promote the facility to families and the community, and ensure guardians and staff work together to stay abreast of children's progress.
Crisis management — They must remain calm in the face of concerns such as children's behavioral issues or when addressing conflicts with parents.
Operations management — They direct the budgeting, planning and day-to-day operations of the facility.
Gain Experience ¶
Work experience requirements vary by position, but most facilities hiring a child care director look for candidates with several years of experience. Many directors begin as teachers or assistant directors in a child care center.
Earn Certification ¶
Some employers require early childhood education certification from a national organization such as the Child & Youth Care Certification Board (CYCCB) or Child Development Associate (CDA) National Credentialing Program. National credentials — particularly those for higher-level professionals like child care directors — typically have education and experience requirements. Individuals with advanced training in education and teacher preparation often need less experience than others. 
National certification may require applicants to provide a portfolio that represents their work with children and families. It usually calls for periodic renewal as well.
Many centers, including those that must adhere to state licensing requirements, also require safety and first aid certification for those who work there.
Child Care Director Salary and Job Outlook ¶
The U.S. Bureau of Labor Statistics (BLS) reports that child care directors' median annual salary in May 2021 was slightly higher than that for all occupations the agency tracks. Additionally, the BLS projects faster-than-average job growth for this profession between 2020 and 2030.
Child Care Director Salary ¶
Salaries can vary according to factors such as experience, education and location, but child care directors' median annual salary was $47,310 in May 2021, according to the BLS. By comparison, the median annual salary for all professions was $45,760. 
Median annual salaries varied according to the type of organization operating the child care facility:
Elementary and secondary schools — $62,320
Religious, grant-making, civic or professional organizations — $50,000
Child day care services — $46,890
Payscale reports that the median annual salary for the role in April 2022 was about $45,300. Several cities had median salaries that were significantly higher, however. The cities with the top reported child care director median annual salary, listed with the percentage that the median salary exceeded the national median salary, are:
Los Angeles — 44%
Palo Alto, California — 44%
Baltimore — 35%
New York City — 33%
Boston — 30%
Child Care Director Job Outlook ¶
The BLS projects that employment for preschool and child care directors will grow by 11% between 2020 and 2030, a pace that's faster than the 8% projected for all professions during that time.
This projected growth equals an average of about 5,300 job openings each year. The BLS anticipates that many of these new jobs will be created early in the decade as the nation recovers from cutbacks related to the COVID-19 pandemic and workers seek care for their children. Advanced education and experience can help prepare child care professionals to lead facilities through this period of growth. 
Make a Difference for Children and Families ¶
Child care directors play an important role for children and families. They help infants and children to develop and learn — and they provide a vital service for the families who count on child care professionals to educate and care for their children. If you're ready to pursue the advanced education that can be an important asset to those seeking leadership roles in child care, explore Peru State College's online Master of Science in Education program.
The program features expert faculty who focus on key educational leadership topics such as curriculum development, assessment and technology. It also offers flexible options that allow you to complete the work in a time frame that fits with your career and home obligations. 
Discover how Peru State's online Master of Science in Education can help you advance your education career.
Recommended Readings
Educational Consultant Job Description and Salary
Instructional Coordinator: Job Description, Salary and Outlook
Teaching in Nebraska and the Midwest: License Requirements
Sources:
Child & Youth Care Certification Board, Certification Process
Child Development Associate National Credentialing Program, Center-Based Preschool
ChildCare.gov, Child Care Centers
Daily Connect, "2022 Child Care Industry Trends"
Indeed, Child Care Director Job Description: Top Duties and Qualifications
Indeed Career Guide, "10 Best Master's Degrees for Career Changes"
Indeed Career Guide, "Master's Degree: Definition, Elements and Benefits"
Payscale, Average Child Care Center Director Salary
U.S. Bureau of Labor Statistics, Preschool and Childcare Center Directors
Wonderschool, "What Are the Responsibilities of a Child Care Director?"