Benefits of a Master's Degree in Education
Written by: Peru State • Aug 6, 2020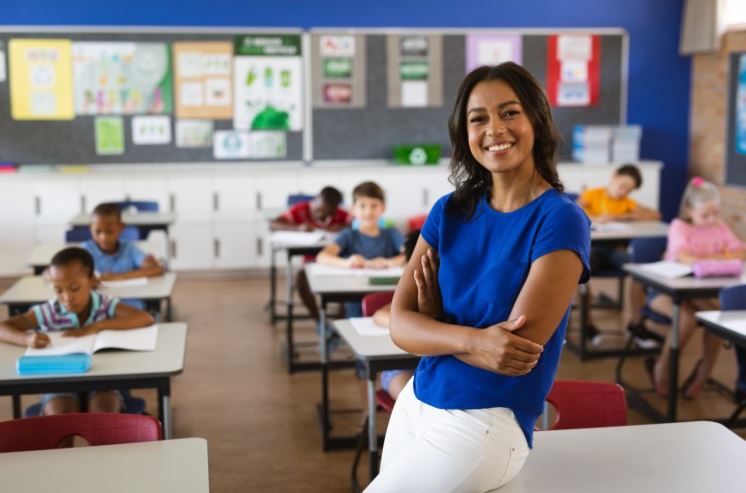 Students aren't the only people in a classroom with a bright future. Those in the education field can further their own career paths by obtaining an online Master of Science in Education (MSED) degree. Doing so can enable graduates to expand their educational influence beyond the classroom and make an impact on many lives. To understand why this is the case, it's important to understand the fundamental elements and benefits of a master's degree in education.
What Is a Master's Degree in Education? ¶
A master's degree in education prepares teachers to take a more holistic approach to educational concepts. These concepts can be applied to the individual classroom through building more robust and efficient lesson plans, but they can also apply to more "big picture" elements in an educational setting, such as establishing education policy for an entire school or school district or improving school administration strategies.
Ultimately, earning a master's degree in education can help individuals move their careers beyond a teacher's traditional classroom setting, so they can have an even greater impact on what may occur within the classroom. In the long run, this could lead to an improved educational experience for students, which could have substantially positive ramifications as students continue on to their adult lives.
3 Benefits of Earning a Master's Degree in Education ¶
Earning a master's degree in education can unlock several key advantages for teachers that can help shape their career path to align with their own professional goals. 
1. Be a Top Teacher ¶
A master's in education can provide a more comprehensive understanding of the role of a teacher within the context of a school or district's administrative system. It can also help introduce individuals to advanced teaching theories and methodologies, which can enable teachers to further shape their classroom experience to match the educational needs and learning tendencies of their students. 
This can not only elevate an individual's professional status as a top teacher, but it can also improve their students' ability to learn and grow. Seeing the positive results of teaching can make earning a master's in education a particularly satisfying accomplishment.
2. Career Advancement ¶
A master's in education can act as a critical stepping-stone for individuals seeking to ultimately pursue a high-level career in the educational field. Earning the degree can carry a lot of gravitas, as it demonstrates a deep commitment to improve education systems from a wider perspective, which can also deliver a significant impact to students. As such, having the degree as part of a resume or a curriculum vitae may enable an individual to stand out in the eyes of prospective employers.
3. Earn a Higher Salary ¶
Obtaining an advanced degree in education can result in higher compensation. According to data from the salary aggregator site PayScale, individuals equipped with a Master of Science in Education degree earn an average annual salary of $62,000. This is approximately $7,000 more per year than individuals with a bachelor's degree in education. It should also be noted that a master's in education can allow individuals to explore a wider range of high-level jobs in the education field, which could potentially increase their median annual salary even more.
Master's in Education Career Options ¶
The benefits of a master's in education degree include enabling graduates to take the theories and concepts associated with teaching and education and apply them toward a wide range of career paths, including those beyond the traditional classroom environment. These career paths can allow graduates to further their passion for the field and specialize in particular positions
1. Curriculum Developer ¶
Curriculum developers create and develop systems of curricula for elementary, middle and high schools. They also oversee the effectiveness of these systems, recommending changes along the way to further improve their impact on student learning. PayScale lists the median annual salary for curriculum developers at around $67,000 as of January 2022.
2. Media Specialist ¶
Media specialists are teachers trained to work with various multimedia equipment and integrate multimedia experiences within a lesson plan. They can also work with other teachers and school administrators to choose and locate relevant audiovisual aids for specific topics to make them more appealing to students. The U.S. Bureau of Labor Statistics (BLS) classifies this position under the category of librarians and library media specialists and lists the median annual salary for this role at $60,820 as of May 2020. 
3. Instructional Coordinators ¶
Instructional coordinators oversee the development and implementation of educational materials and the effectiveness of teaching techniques. They can also serve as mentors or coaches to teachers, instructing them on the most efficient ways to guide students through a given curriculum. The BLS lists the median annual salary for instructional coordinators at $66,970 as of May 2020.
4. Educational Consultant ¶
Educational consultants are advisors who work closely with schools to observe classroom functionality as a cohesive learning environment. They also create and recommend operational strategies to strengthen any perceived weaknesses in these environments. As of January 2022, PayScale lists the median annual salary of this position at around $62,800.
Take Your Career to the Next Level ¶
Teachers will always be an important part of a student's life experience. By earning a master's degree in education, teachers can ensure the impact they have on their students can be even more profound. By using the degree to pursue high-level careers, they can help shape the way a school positively impacts students both inside and outside the classroom. 
Peru State University's online Master of Science in Education program can help you reach this stage of your career and make a significant impact on the lives of others. With two specialization options, our curriculum is designed to provide you with the knowledge and skills to identify and strengthen educational systems on multiple levels, from an administrative role to the classroom itself. 
Explore the program today, and discover the benefits of a master's degree in education.
Recommended Readings
Educational Consultant Job Description and Salary
Exploring a Career Path in Education Through Online Learning
What Can I Do with a Maste's in Education in Nebraska?
Sources:
Betterteam, Digital Media Specialist Job Description
Betterteam, Educational Consultant Job Description
Frontiers in Psychology, "Influences of Teacher-Child Relationships and Classroom Social Management of Child-Perceived Peer Social Experiences During Early School Years"
Indeed, "How to Become a Curriculum Developer (With Tips)"
PayScale, Average Curriculum Developer Salary