10 Mistakes to Avoid When Exploring Online Degree Program Options
Written by: Peru State • Jun 18, 2020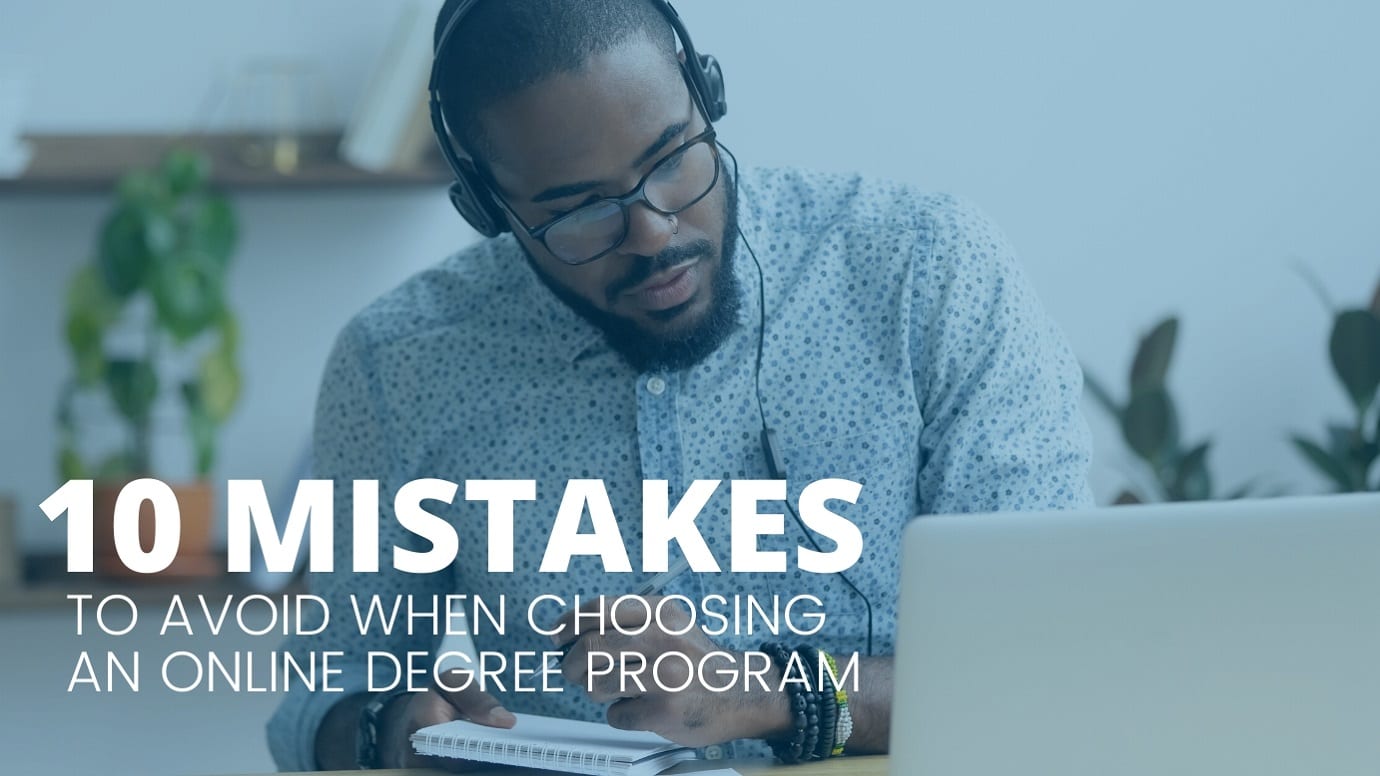 Sticking with the big names. Don't eliminate an online college or university just because you don't immediately recognize the institution's name. There are hidden gems out there that will surprise you, and a whole lot more schools are just getting started working out the kinks in online teaching. Rather, focus more on the school's longevity in online education (as well as quality and affordability), since online expertise makes for a smoother learning experience.

Letting a busy schedule get in your way. Don't think a degree isn't possible with everything else you have on your plate. Many online colleges offer flexible schedules and don't require you to be online at a certain time of day. Ask about course start dates and how many weeks per class (hint: eight weeks is a good length to learn what you need at a manageable pace).

Thinking accreditation doesnt matter. Don't find out too late that your college degree won't transfer down the road, or that your employer has an issue with your school's accreditation.  Look for a university with Regional Accreditation, which is widely respected. National Accreditation may work, too, but be diligent about thinking through where you might want to earn your second or third degree since it's always up to the receiving institution whether they'll accept your prior credits.

Ruling out a school based on cost. Don't be afraid of initial tuition costs presented by a university. Credit for prior college coursework, life experience, and corporate or military training, as well as employer professional development programs and federal student aid, may make a college or university far more affordable than it appears. Remember, the more credit you receive, the less overall cost for you.

Being discouraged by financial aid forms. Don't be afraid to ask for assistance. If you need help understanding the financial aid forms, most online colleges have staff members who will be happy to help you. 

Discounting the attention of admissions reps. Don't ignore admissions representatives who may call you. Take advantage of the opportunity to learn more about their online degree programs. They should be able to offer valuable information on programs and admission requirements. 

Settling. Don't go with the first program you discover. Be thorough in your search. For instance, a general business program might not serve you as well as a program with a focus in accounting, marketing, management, etc. Conversely, a more general, broadly based degree program in business may better meet your needs if you aren't quite sure of your direction and prefer to keep your options open. 

Procrastinating. As a follow up to #7, holding off won't get you anywhere. Find the degree that fits your background and career goals. If you are not sure what degree is best, ask the college's admissions  representative for help.

Doing it alone. Don't keep your interest in continuing your education a secret. Give friends, family members, and colleagues the chance to share their experiences and offer you important encouragement and support. Remember to check out what the online university has to say about its own student support practices.

Being intimidated. Don't underestimate your capabilities. Be confident in your decision to return to school. If you have good academic and time management skills, are motivated, and have the support of your closest family members and friends, your chances of achieving your degree (and career) goals are high.
If you're considering an online degree and want to weigh the pros and cons with a college that has 20 years of online expertise and  already knows the ropes, give Peru State College Online a call.